2019 Novel Coronavirus (2019-nCoV)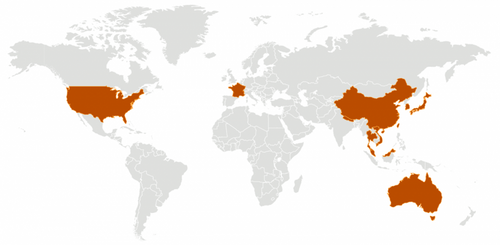 CDC is closely monitoring an outbreak of respiratory illness caused by a novel (new) coronavirus (named "2019-nCoV") that was first detected in Wuhan City, China and which continues to expand.  While CDC considers this is a very serious public health threat, based on current information, the immediate health risk from 2019-nCoV to the general American public is considered low at this time. Nevertheless, CDC is taking proactive preparedness precautions. 
Spread
Most often, spread from person-to-person happens among close contacts (about 6 feet). Person-to-person spread is thought to occur mainly via respiratory droplets produced when an infected person coughs or sneezes, similar to how influenza and other respiratory pathogens spread. These droplets can land in the mouths or noses of people who are nearby or possibly be inhaled into the lungs.
Symptoms
Current symptoms reported for patients with 2019-nCoV have included mild to severe respiratory illness with fever, cough, and difficulty breathing.
If you develop a fever and symptoms of respiratory illness, such as cough or shortness of breath, within 14 days after travel from China, you should call ahead to a healthcare professional and mention your recent travel or close contact. If you have had close contact with someone showing these symptoms who has recently traveled from this area, you should call ahead to a healthcare professional and mention your close contact and their recent travel. Your healthcare professional will work with your local public health department and CDC to determine if you need to be tested for 2019-nCoV.
Prevention
There is currently no vaccine to prevent 2019-nCoV infection. The best way to prevent infection is to avoid being exposed to this virus. 
As a reminder, CDC always recommends everyday preventive actions to help prevent the spread of respiratory viruses, including:
Wash your hands often with soap and water for at least 20 seconds. If soap and water are not available, use an alcohol-based hand sanitizer.
Avoid touching your eyes, nose, and mouth with unwashed hands.
Avoid close contact with people who are sick.
Stay home when you are sick.
Cover your cough or sneeze with a tissue, then throw the tissue in the trash.
Clean and disinfect frequently touched objects and surfaces.
CDC does have specific guidance for travelers.
The latest situation summary updates are available on CDC's web page 2019 Novel Coronavirus, Wuhan, China.
West Central District Health Department is continually monitoring the situation and will provide information as necessary.  If you have questions please contact Heidi Wheeler, Emergency Response Coordinator at: 
111 N. Dewey; Suite A

North Platte, NE 69101-5439

Main Office: 308-696-1201

Direct line:  308-221-6838

Cell:  308-660-0683

Website: www.wcdhd.org

E-Mail:  wheelerh@wcdhd.org